25th anniversary celebrations with Cotswold MP Geoffrey Clifton-Brown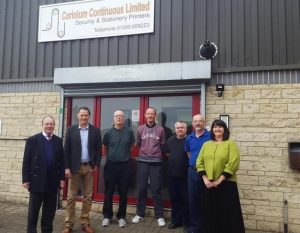 Corinium Continuous was delighted to celebrate it's 25th anniversary last week with Cotswold MP Geoffrey Clifton-Brown and Dawn Reid of British Printing Industries Federation.
Jonathan Street, Managing Director and Chairman of the company, said "We are looking forward.  We have turned a corner and we are looking forward to the next 25 years.  As a small business, what we are actually doing is competing against businesses in the country.  We can offer things at a service level that bigger companies cannot do."
Jonathan pointed towards their experience of their staff, like Robert Savage who has been working for 23 years.  He said "The traditional way of printing all comes down to the experience of our employees.
Geoffrey Clifton-Brown said "We are here to celebrate the last 25 years but also look to the next 25 years.  With so many hidden gems like this business in Cirencester, that's what makes the town so special.  Corinium Continuous are an excellent service excelling against big businesses because people want a niche product.  Their customers will come back to them time after time."
Dawn Reid said "For a small business to withstand four recessions, it shows it is a sustainable business.  It is what we are trying to help companies from an industry perspective with.  Our next big this is trying to promote more apprenticeships."